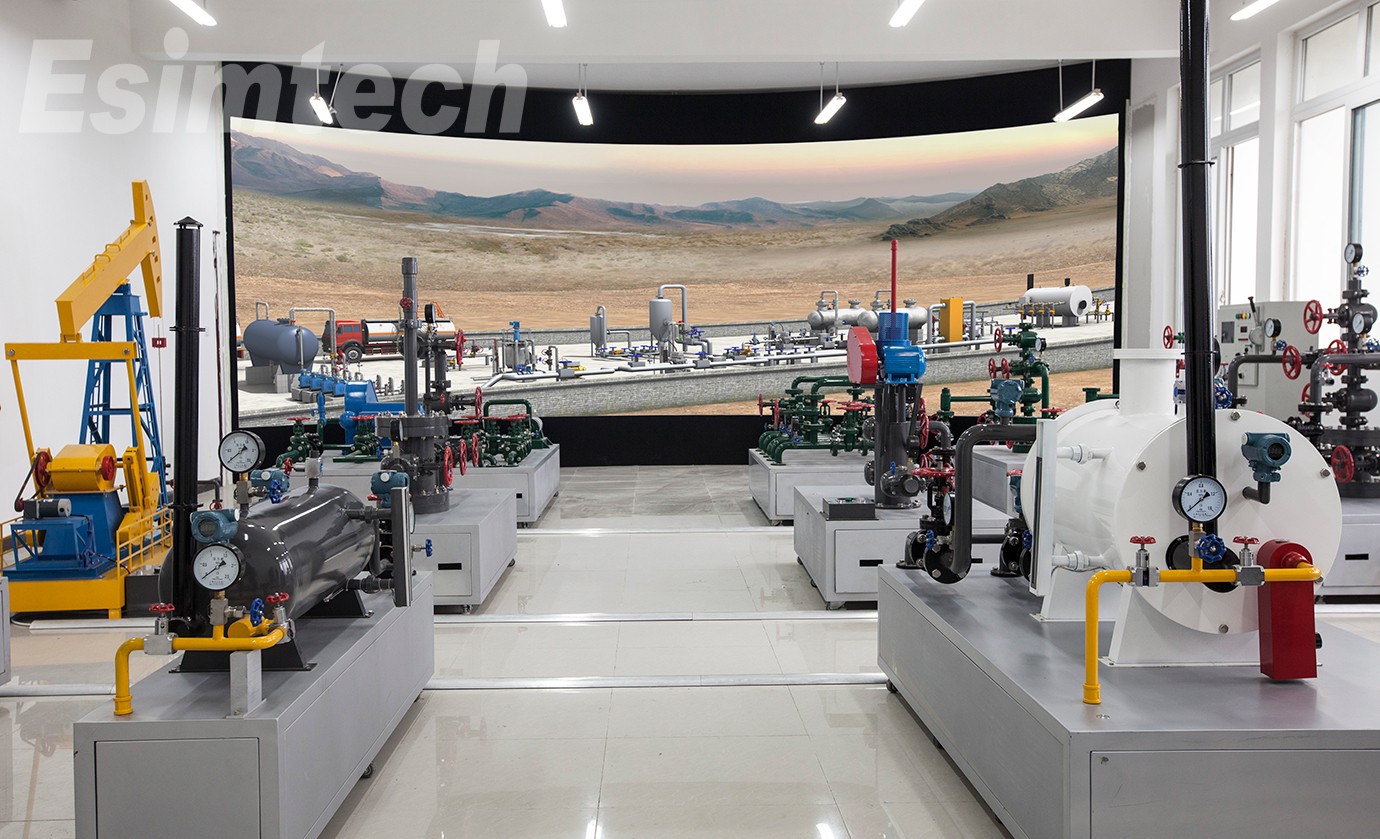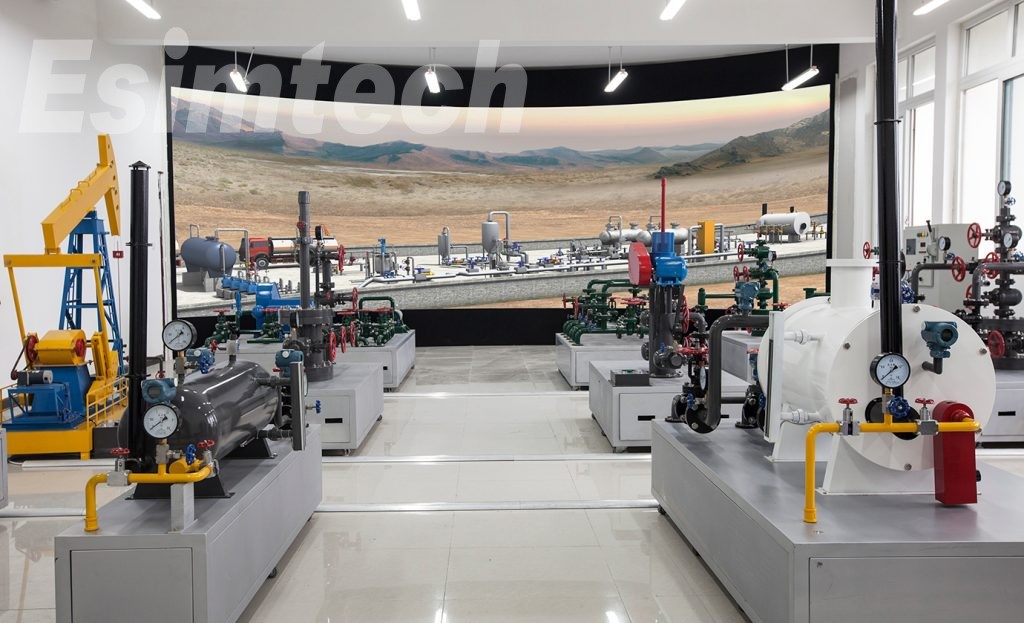 ESIM-FOR3 Oil Recovery Simulator
Figure out the working status, manifold pressure and so on at real time during student's operation.
Present underground scene, device motion and device working theories,
Accident setting function enables students to judge the cause of problems and master the way of handling common problems.
Oil well parameter are adjustable, including pressure, temperature, flow rate, etc.
The function of the system is expandable.
ESIM-FOR3 oil recovery simulation training system is based on virtual reality, Fieldbus communication, distributed control, and computer simulation. It provides connections among each aspect and process of oil collection engineering through using image fusion and various display solutions in order to achieve skills training and target assessment for oil workers and injection workers.
The system displays the profiles of every single device, preset malfunction during training, score trainee's operations automatically, and print out final grade. It improves training efficiency greatly. It not only has very low running and maintenance cost, but also avoids device damages because of incorrect operations by trainee. Combining the virtual system and real training system together helps trainees to learn to use their knowledge to do actual operations. As a result, it helps to consolidate theoretical knowledge and regulate operations.
System Features
Real 3D, interactive animation
Strict mathematical model, complying with real technical demands
Device profile display and working principle analysis
Intelligent scoring, fair and square
Industrial PLC controlling, high stability and reliability
Parameters
| | |
| --- | --- |
| Operation voltage: | 220V 50Hz AC |
| Power consumption: | < 6000 Watt |
| Operating temperature | 0-30 ℃ |
| The average working time between malfunction: | ≥5000 hours |
Training Items
Rod-pumped well opening
Rod-pumped well shutting in
Rod-pumped well washing
Electric submersible well opening
Electric submersible well shutting in
Electric submersible well washing
Screw pump well opening
Screw pump well shutting in
Screw pump well washing
Checking pump condition by building pressure of the screw pump well
Wellhead fault judging and removing
Starting furnace operation
Single good gauging operation
Washing gauging and separating device
Gauging station fault judging and removing
Water injection positive injection
Water injection inverse injection
Water injection process fault judging and removing
Adjusting well injection water volume
Building pressure of rod-pumped well wellhead
Components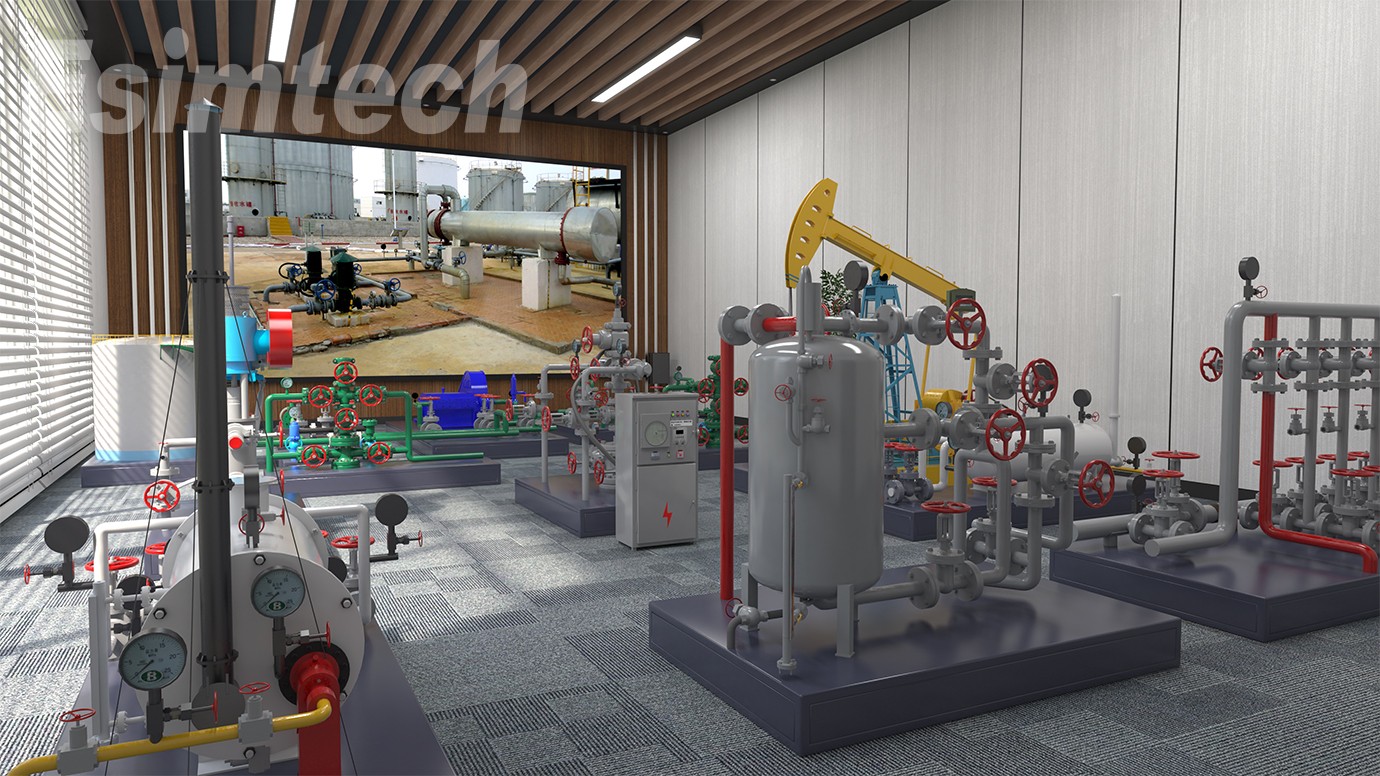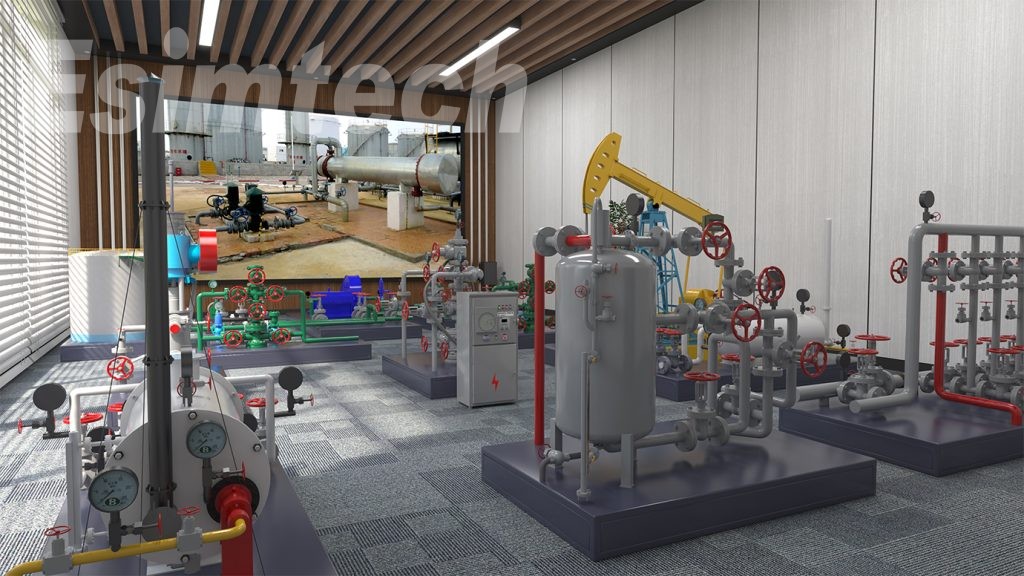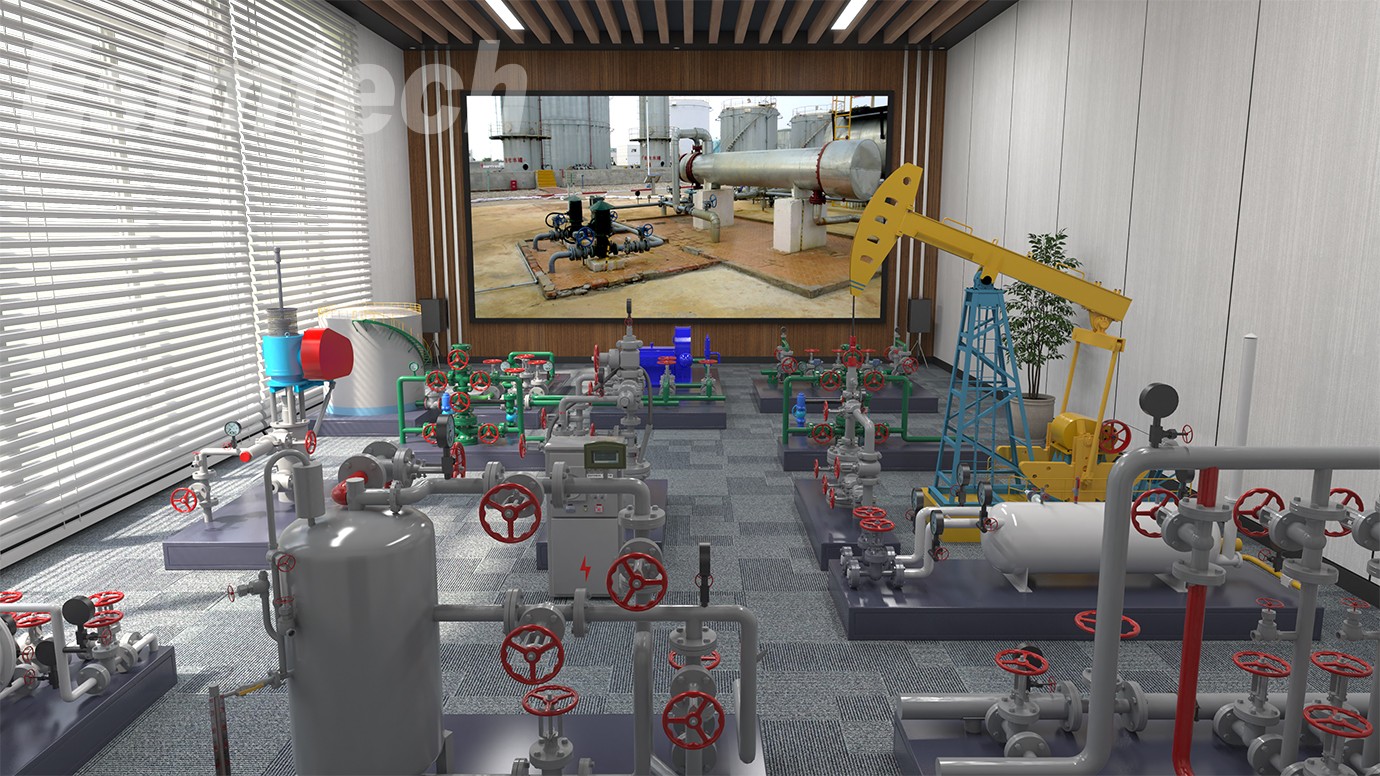 System Software
Oil recovery simulator technological software
(1) Software framework module
(2) Interface controlling module
(3) Flow calculating software module
(4) Device controlling software module
(5) Problem and trouble software module
(6) Sound effect controlling module software
(7) System self-checking module
Oil recovery simulator graphics software
(1) 2D flow controlling module
(2) 3D flow controlling module
(3) Device controlling module
| | | | | |
| --- | --- | --- | --- | --- |
| SN | Name | Specification and technical parameters | Unit | Q'ty |
| 1 | Oil and water well wellhead module | Including rod-pumped well, screw pump well, electric submersible pump well and two water injection well and other wellhead accessories | Unit | 1 |
| 2 | Gauging station module | Including feeding manifold, gauging and separating device, furnace and dosing tank | Unit | 1 |
| 3 | Water injection station module | Including plunger pump, water pump and water injection manifold | Unit | 1 |
| 4 | Display system | Large size LED screen | Unit | 1 |
| 5 | Controlling computer | CPU: intel i5; Memory: 2G; Disk: 500G; Monitor: 22-inch. (This configuration may be different according to the signed technical agreement) | Set | 1 |
| 6 | Graphics computer | CPU: intel i7 or above; Memory: 4G; Disk: 500G;Graphics card: NVIDIA GTX 1060 or above; Monitor: 22-inch.(This configuration may be different according to the signed technical agreement) | Set | 1 |
| 7 | Laser printer | HP laser printer. Printing speed: 16ppm; resolution: 600x600dpi | Set | 1 |
| 8 | Sound system | American Crown amplifier; Behringer two-channel speaker; sound mixer, Takstar wireless microphone receiver (including wireless, hand, desk mounted, wearable microphone) | Unit | 1 |
| 9 | Other accessories | Two chairs (rotatable, height adjustable), one desk,one set of standard machine cabinet | | 1 |
| 10 | Installation and maintenance training platform | Providing operation training | | |
| 11 | Software | Esimtech oil recovery simulator master control software | Unit | 1 |
| 12 | Software | Esimtech oil recovery simulator technological software | Unit | 1 |
| 13 | Software | Esimtech oil recovery simulator graphics software | Unit | 1 |
Why Choose Us?
Cutomization
Customized software and hardware
Preciseness
Precise mathematical and physical model
Reality
Highly realistic 3D scene display
F&Q
Can this simulator replace the simulators I currently use in my good control training program?
Esimtech drilling and well control simulator has been approved by IADC and IWCF which can be used for common operation training, as well as IWCF and IADC training programs.
Why is your simulator better than other simulators I've used in the past?
With the mission of "Assist training, reduce accidents and benefit the society", Esimtech have been doing their best to design, develop and service every simulator. Esimtech simulator has its features as strictness, reliability, realisticness, lifelikeness. Problems and incident playback function enable trainees to experience troubles at any time which helps trainees to better master the skills of judging and handling common troubles.
Do you have any happy clients or testimonials about your simulator?
"Creating value for customers", which is always emphasized in our company. With this original intention, Esimtech Company develops simulators with high quality and provides timely and enthusiastic services. For all these years, the products and services provided by Esimtech are highly praised by our customers.
Can you do custom work for my specific rig, company, or field?
Esimtech provides customization service, which is the biggest feature of the company. Esimtech has a strong production team skilled at programming and animation production. Both hardware and software can be customized to comply with the real situation.
---