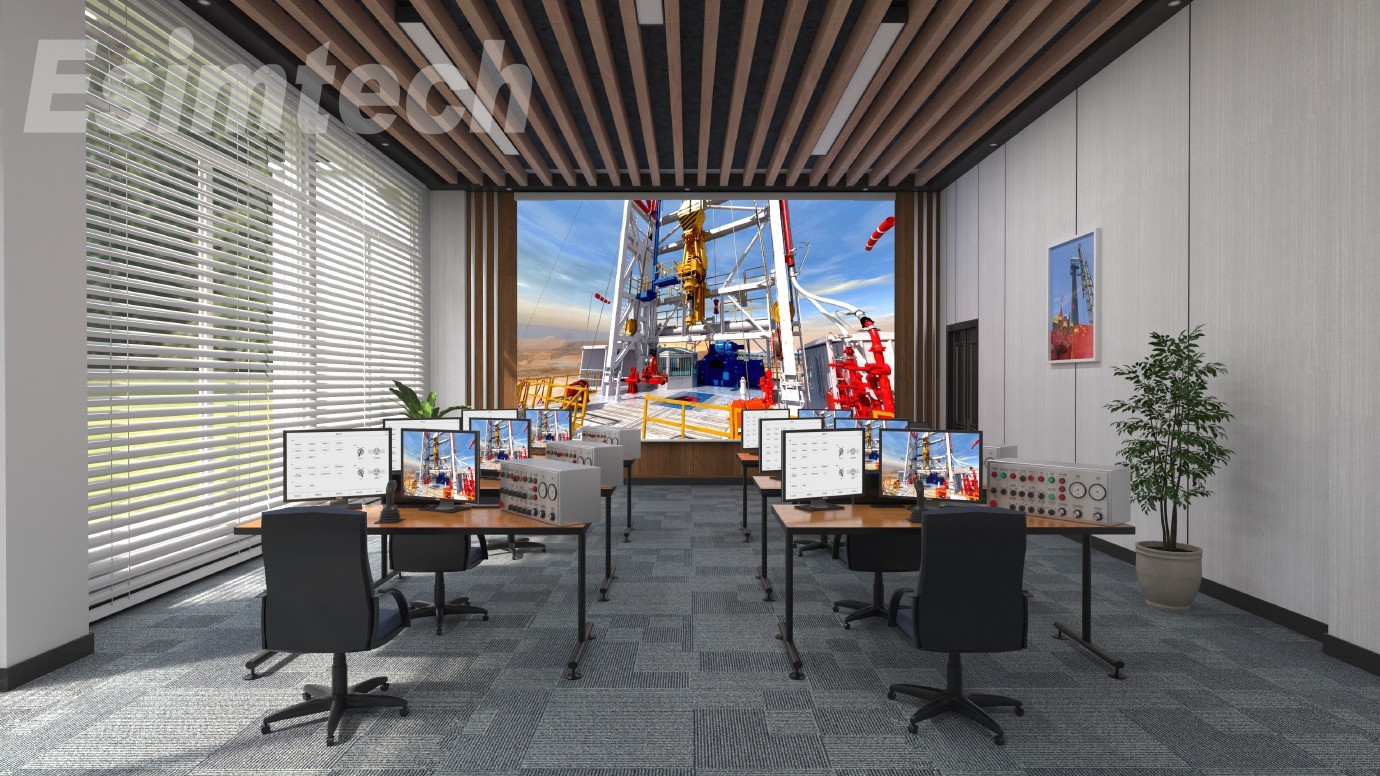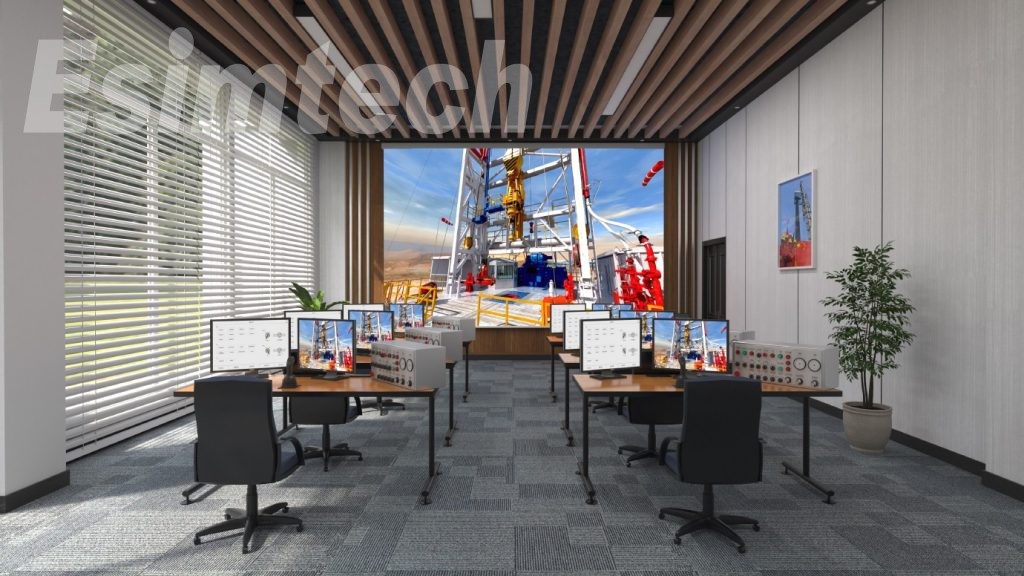 ESIM-FTD1 Top Drive Simulator
Cutomization
Customized software and hardware
Preciseness
Precise mathematical and physical model
Reality
Highly realistic 3D scene display
ESIM-FTD1 top drive simulation training system is developed by Esimtech aiming for training the operation of the top drive device. It can provide training items of all top drive operations and common accident handling. It can be used for training for driller/ driller assistants, technicians, and drilling team leaders. Through training with the system, trainees can master the operation method of the top drive and also handling the skills of common accidents.
System Features
Fully simulating real system
3D animation display
Accident setting function
Step by Step working mode
Lifelike sound effect
Automatic scoring function
Student information management function
Technical Parameters
| | |
| --- | --- |
| Power: | 220V/50Hz AC |
| Power consumption: | <3000W |
| Resolution: | 1920*1080 |
| Average working time without failure: | ≥5000 hours |
| Area: | ≥10*8.5m |
| Working temperature: | 0℃~30℃ |
| Relative humidity: | <90% |
| Seismic intensity: | <6 |
Training Items
1. 3D animation display of top drive working principle
(1) Turret lock
(2) IBOP
(3) Top drive rotation
(4) Links tilting
2. Step-by-Step working mode
(1) Tripping in
(2) Tripping out
(3) Top drive making up
(4) Top drive breaking out
(5) Normal drilling
3. Non-sequence operation mode
(1) Tripping in and out
(2) Drilling
System Components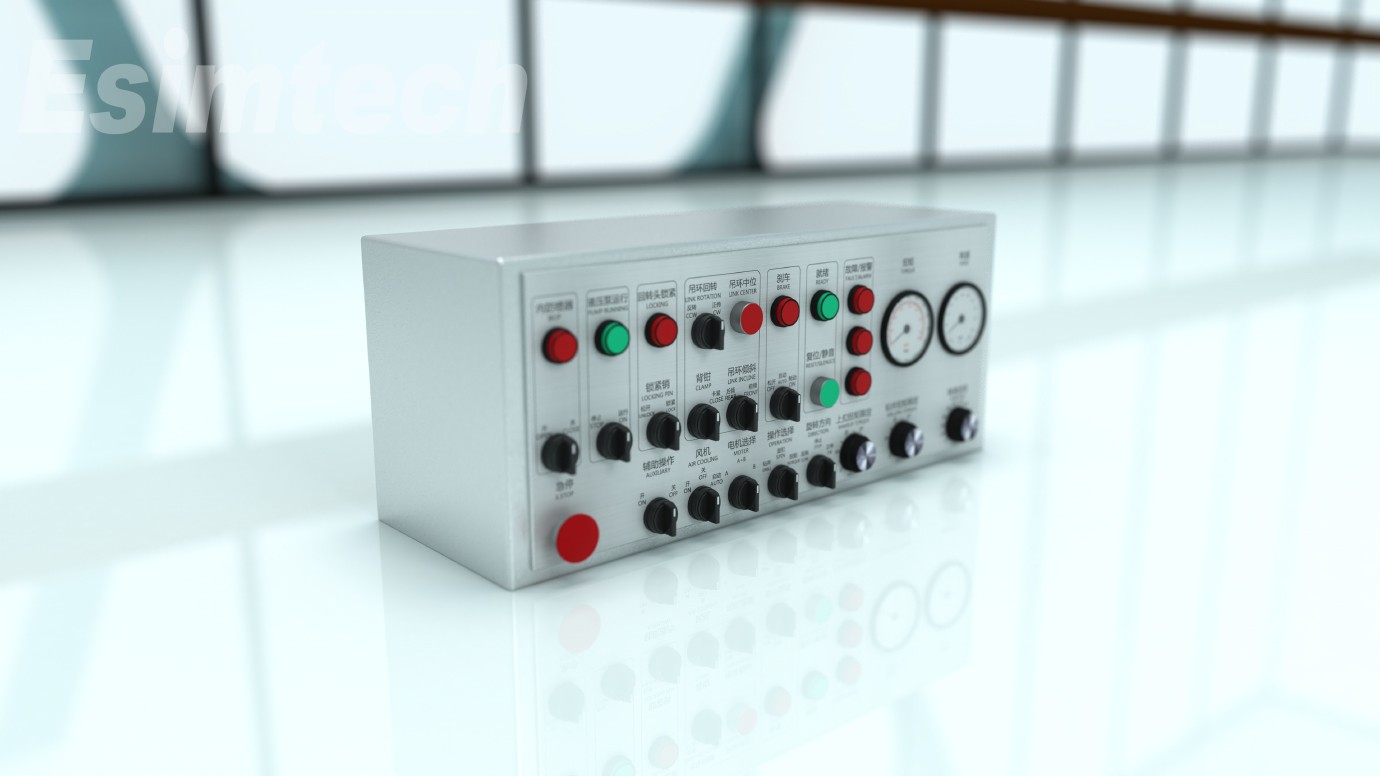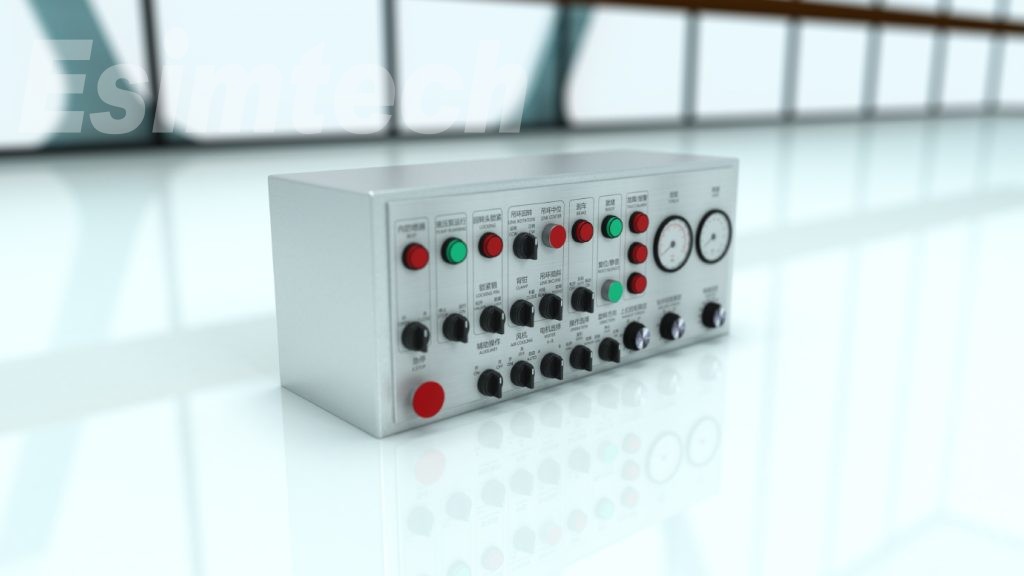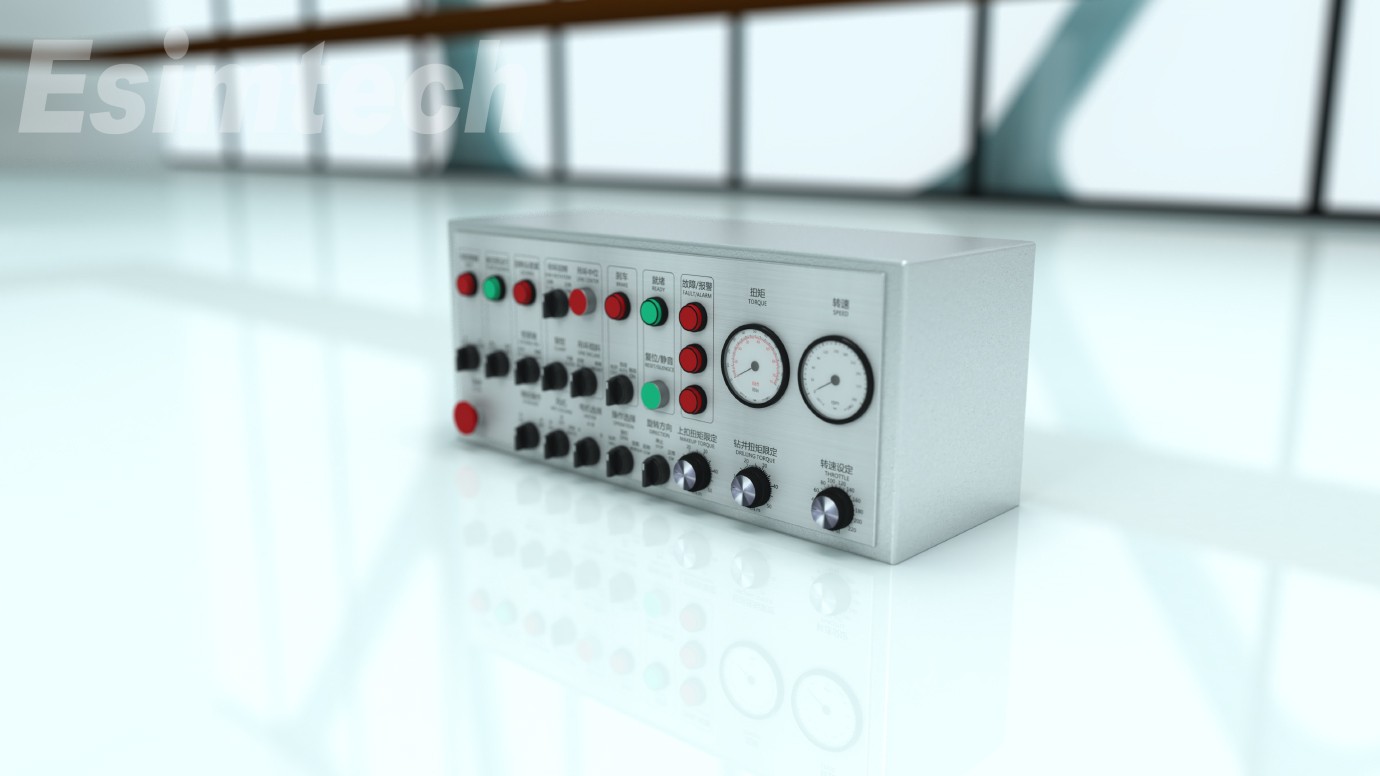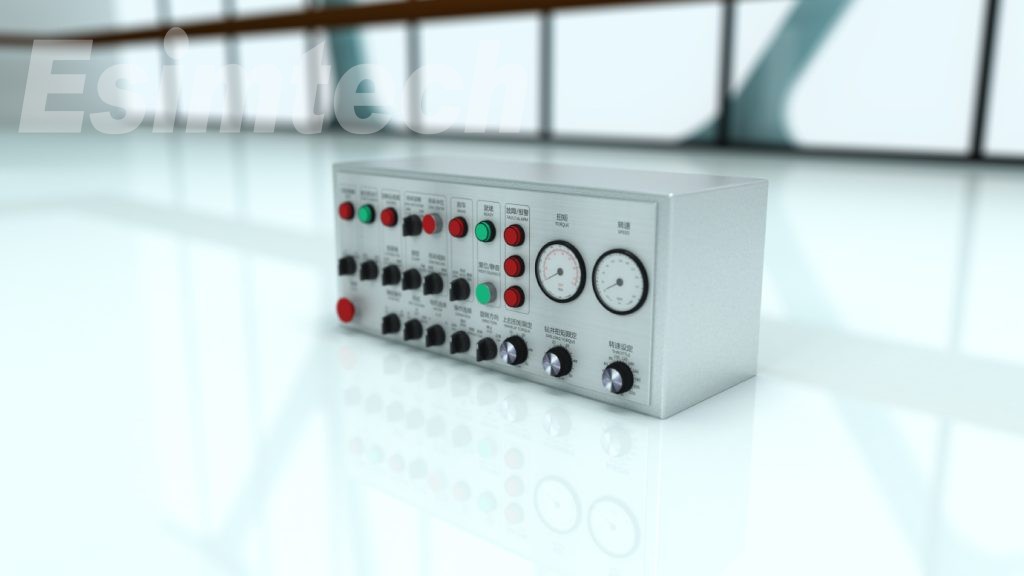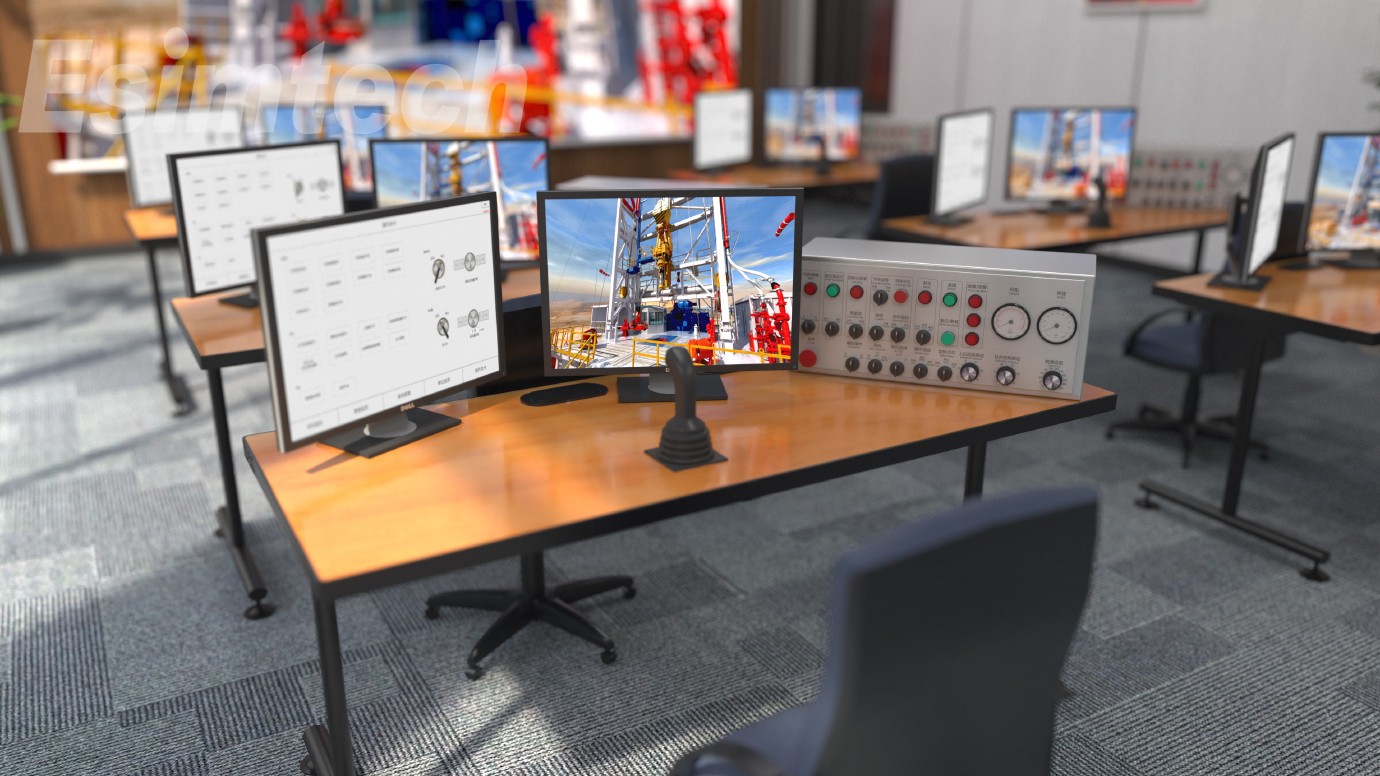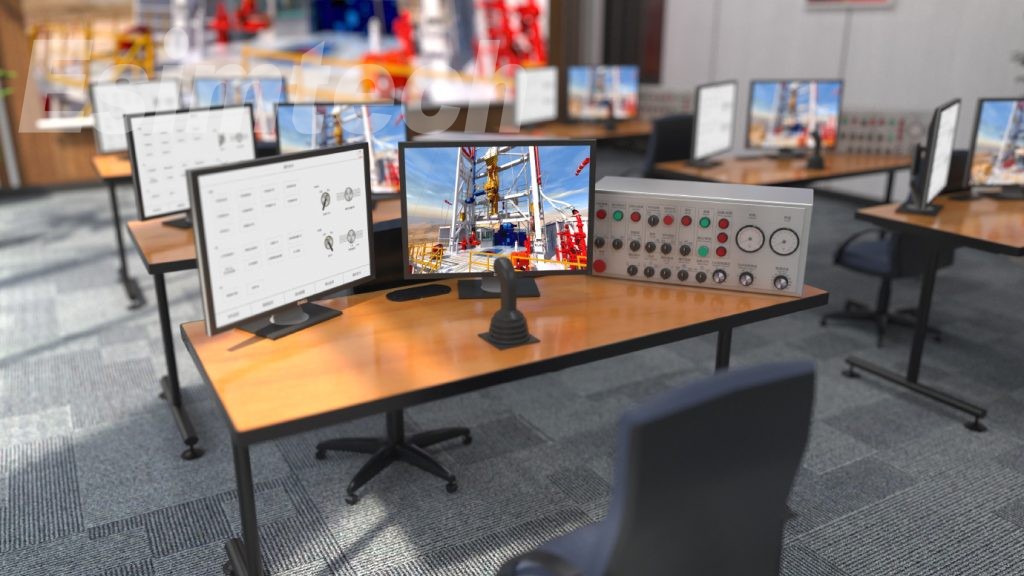 F&Q
What well control simulations does this well control simulator cover?
In well control operation, pressure control is very important. How the pressure is controlled? In the good control simulator, various scenes of kick can be simulated, both hard and soft shut-in procedure can be carried out. Meanwhile, various well-killing methods are provided, such as driller's method, engineer's method, volumetric method, bullhead, low choke method, standpipe pressure method, etc.
What new petroleum simulations and features are you working on?
Esimtech has been committed in study and developing a petroleum engineering simulation training system for about 30 years, and has a series of independent intellectual property rights. Our simulators are widely used in many training companies with good feedbacks. To keep pace with the international standard and demand, Esimtech is now studying and developing an MPD simulator, where some achievement has been reached.
Do you have any certifications?
Esimtech drilling and well control simulator has been approved by IWCF and IADC.
Since establishment, Esimtech has obtained a series of independent intellectual property rights, including invention patents in China and abroad.
Esimtech was granted as "High-tech Enterprise", and has been awarded the third prize of "Science and Technology Progress".
Esimtech has also obtained the certificates of ISO 9001, ISO14001 and ISO45001.
Do you have simulators simulating offshore drilling platforms?
Esimtech provides drilling and well control simulator with offshore platform simulation.
Is there a complete instruction for use if I ordered?
There will be completely operational instruction and maintenance instruction along with the package.
---
---