Drilling Simulator, A Better Way to Train for Oil & Gas Industry
Speaking of the Petroleum industry, what would you think of? Black oil gushing out from the ground? Or giant machines roaring offshore and in the desert? To be sure, it's a field of both high-input and high-output, generating millions of barrels of "Liquid Gold" every day, and consuming huge resources and high-tech labor at the same time.
To extract oil and gas from the ground, well-trained operators and high-precision instruments are both vital. Demand for high-quality labor always requires labor training to be more efficient and effective, that's where it comes to the drilling simulator.
What is a drilling simulator?
Generally, a set of devices that replicates the environment, phenomenon, operations, and feedback of the oil & gas drilling process. To achieve a certain level of fidelity, a full-size simulator is often equipped with physical operation consoles like the driller console, the BOP console, the remote console, etc. Along with a highly simulated display system (normally 3D), the whole layout of the device looks exactly like the operating room.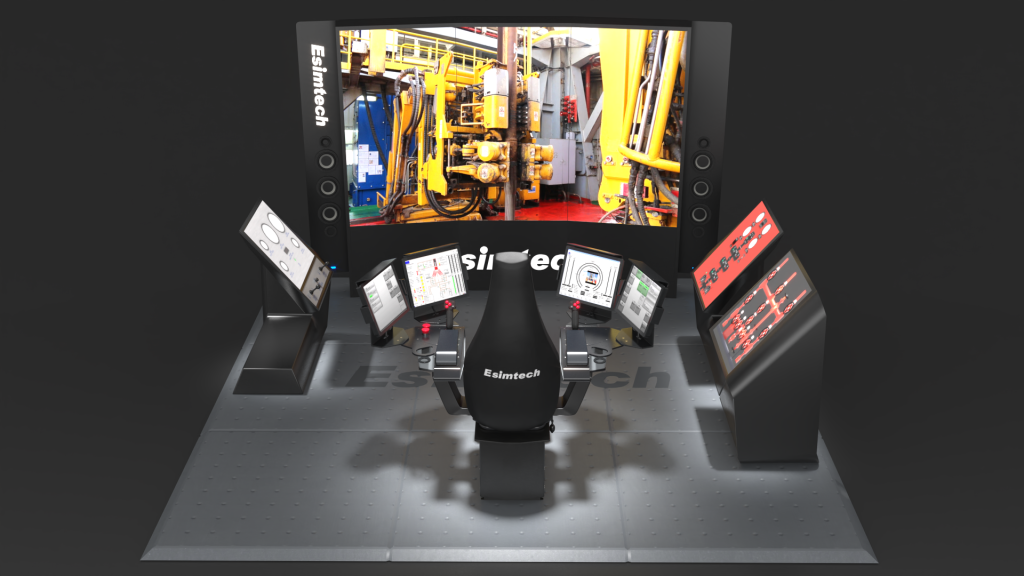 Apart from physical devices and equipment, petroleum-based drilling software is designed and embedded in the entire system to interact with the operators. They can lay their own hands on the handles and buttons to do the drilling, then get feedback from the machine to see how a natural oil well would respond to their operation. By creating "the scene", operators in the device are enabled to experience how these expensive gases and liquids are being produced by our technicians and workers. You'd know it by now, the machine is created to train practitioners in the Petroleum industry.
The use of simulators for personnel training is not new at all in some specific industries and fields: aerospace, military, marine survey, and even car driving lessons. Now the digitization of tutorials has come to the oil & gas industry. Since its invention, thousands of drilling simulators have been deployed around the globe, providing E&P companies and drilling contractors a lot more well-trained labor than before by improving the efficiency of oil and gas work skills teaching. Petroleum engineering has also benefited from it.
What does it train your stuff with?
Basically everything you need to know about oil and gas drilling. Different models of simulators provide different training items, but it's all about getting your crew ready for the real production activities. Beneath I've created a table that shows what drilling simulator's training items should include.
Routine drilling operations
Tripping in and tripping out
Tripping in
Normal tripping in
Slacking off
Tipping out
Normal tripping out
Getting overpull
Drilling operations
Normal drilling and picking upstand
/
Normal drilling and drilling with bouncing bit
/
Drilling operation under different formation
/
Well killing
Driller method
/
Engineer method
/
Overweight driller method
/
Cementing
Running casing
/
Drilling out plug
/
Cementing
/
Phenomenon response
Judgement and treatment of emergency and trouble
Wall sticking
/
Sand settling
/
Balling up
/
Hole collapse
/
Key seating
/
Hole shrinking
/
Well immersion (gas immersion, brine immersion)
/
Fishing tap
/
Junk milling
/
Shutting in operations
Shutting in operation when overflow occurs while drilling
/
Shutting in operation when overflow occurs while tripping in and out
/
Stripping after shutting in when overflow occurs while tripping out
/
Shutting in operation when overflow occurs while tripping in and out collar
/
Shutting in operation when overflow occurs in barren hole
/
Why not just train the operator on site?
The answer to this question is clear: for HSE and money-saving.
The petroleum industry requires complex and high-precision work skills, while the dangerous and harsh environment makes it hard to carry out any training activity at the construction site. To ensure the trainees' health and safety while providing them with practical training, a simulation system becomes a good way out.
Another factor is that a part of oil and gas production accidents in recent years are caused by human factors, and the consequences of such accidents can be catastrophic. Complete HSE training is necessary before actual work.
Some might wonder why is it money-saving since you need to purchase this complex machine at a price of a nice car. While a whole set of simulation training systems can be costly, it's only a fraction compared to the cost of oil & gas production (btw drilling is one of the most expensive parts of the entire process). That is to say, having your trainees operating on the real machine could potentially cost a lot more money (and is extremely dangerous). Plus, simulation training also helps reduce the non-productive time to a minimum, leading to more output.
Why should I choose a simulator over a drilling simulation computer software?
Why should you choose a hamburger over just a meatloaf? Simulation software is one of the foundations of a simulator, especially for drilling. But due to its lack of hardware for manual operation, computer software can hardly meet the need for oil-tech training. While a complete set of simulation systems combining software and hardware offers a more comprehensive and diverse selection of training content. Imagine the difference between setting in a realistic operating room and just tapping the keyboard or clicking the mouse. By providing a refined visual and interacting system, a drilling simulator restores the oil recovery scenario to the greatest extent. That's what computer software can hardly reach.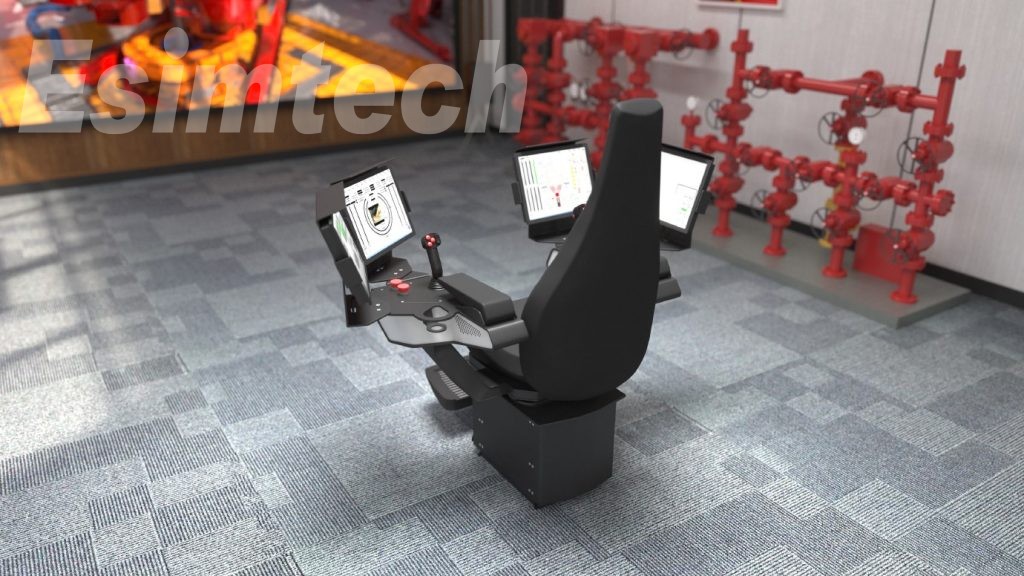 I'm gonna bring up the word "human factor" again 'cause we define human factor as the opposite of system failure or mechanical failure. It's often caused by physical or mental stress or fatigue, also something you can't experience just staring at the computer screen. A simulator is designed to train the crew with the ability to deal with stress and problem-solving in actual situations. An immersive experience is a must.
And why choose us?
Well-experienced
Esimtech was founded in Aug. 2009 and has been in the industry for over 10 years. We've provided a lot of clients with high-quality products (taken over 95% of the domestic market) and are hearing good feedback.
IADC and IWCF standards met
International Association of Drilling Contractors (IADC) and International Well Control Forum (IWCF) are worldwide recognized Petroleum qualification certifiers. And Esimtech is a member of them.
Patent-oriented
Esimtech has obtained numerous patents both domestically and internationally. We also have technical support from the Computer Application researching institute of Southwest Petroleum University and the "Petroleum Engineering Computer Simulation Technology" Key Lab of Education Ministry.
After-sale service
Lifetime after-sale service via phone/email/fox is provided free of charge. A drilling simulator is put under warranty for a whole year, and our clients can get their machine updated within this time (if there is a system upgrade during this period).
If you have any questions, feel free to contact us.
Related Products